BODY BUTTER
Deeply nourishing

Moisturized smooth skin

Melts into the skin, providing incredible softness

Creamy, silky texture

Fast-absoring

Natural formulation




Fresh beautiful scent
HAND CREAM
Deeply moisturizing




Ultra-soothing




Delicately light beautiful scent




Natural formulation




Perfect for on-the-go




Non-greasy
FOOT CREAM
Ultra-hydrating
Nourishes and softens dry, rough patches
Helps relax tired feet

Deodorizes with lavender and tea tree oils

Natural formulation

Non-greasy
Repairs - Camel Milk is high in Lactic Acid which gently sloughs away dead skin cells leaving the skin looking plump and fresh. Vitamin C helps produce collagen supporting natural skin rejuvenation. Aloe Vera helps stimulate healing and may improve the strength and quality of your nails.
Hydrates - Lanolin in camel milk locks in the moisture, keeping the skin hydrated. Omega Fatty Acids 3,6 & 9 in camel milk have moisturizing qualities and potent antioxidant properties that help slow down aging.
Protects - The antioxidant and reparative properties of camel milk's vitamins Vitamin B1 and Vitamin E help defend the skin from premature aging and reduce skin damage caused by UV radiation. Grape Seed Oil protects your skin cells against oxidative stress whilst supporting natural skin rejuvenation. Rich in Omega 6 and 9, Vitamins A and D, Sweet Almond Oil nourishes and softens the skin and gives it a radiant glow. Shea Butter helps maintain skin's elasticity.
BODY BUTTER: For best results apply on the whole body after showering to lock in moisture. For increased microcirculation, massage gently into your skin with upward circular motions. A little goes a long way.
HAND CREAM: Slowly massage your hands, nails, and cuticles every day with the cream for soft and nourished skin.
FOOT CREAM: Apply to freshly-cleansed feet and massage in. Use daily for optimal results.

Paraben Free - Sulfate Free - Phtalate Free - Mineral Oil Free - Formaldehyde Free - Synthetic Fragrance Free - Gluten Free - Cruelty Free

We care about the quality of the ingredients in our products and their simplicity. We believe in less = more.
Our camels live on a small family-owned farm that is committed to ethically producing premium camel milk. No hormones are fed to our mothers. Most of their time our camels roam free around the beautiful natural reserve, grazing on native grasses. The milk is gently pasteurized, maintaining its nutritional quality.

Luxurious, Natural Care for Your Body
Cammellatte Camel Milk Body Butter features Camel Milk, Sweet Almond Oil, Shea Butter and Jojoba Oil. The rich, creamy formula nourishes, smoothes and revitalizes the skin with a boost of vitamins and minerals. The light, creamy butter melts into the skin, providing incredible softness to the skin and an enriching experience to the senses.
To best use this luxurious body butter apply on the whole body after showering to lock in moisture. For increased microcirculation, massage gently into your skin with upward circular motions. A little goes a long way.
We also always wanted our natural body care products to have the best smelling scent, a smell that people would look forward to every day. The body butter will leave your skin with a clean, fresh, light, delicious floral smell.
If you have dry or cracked feet our powerful yet gentle Camel Milk Foot Cream is here to help. Lanolin and Omega Fatty Acids in camel milk create a natural oil barrier on the skin's surface that instantly boosts moisture levels and help prevent further moisture loss, keeping your feet looking healthy, smooth and crack-free.
Immune Proteins in camel milk have anti-fungal and anti-inflammatory properties and will help protect your feet from infections.
Tea Tree Oil will cool and relax your feet while calming frazzled nerves and relieving stress and anxiety with its pleasant natural scent.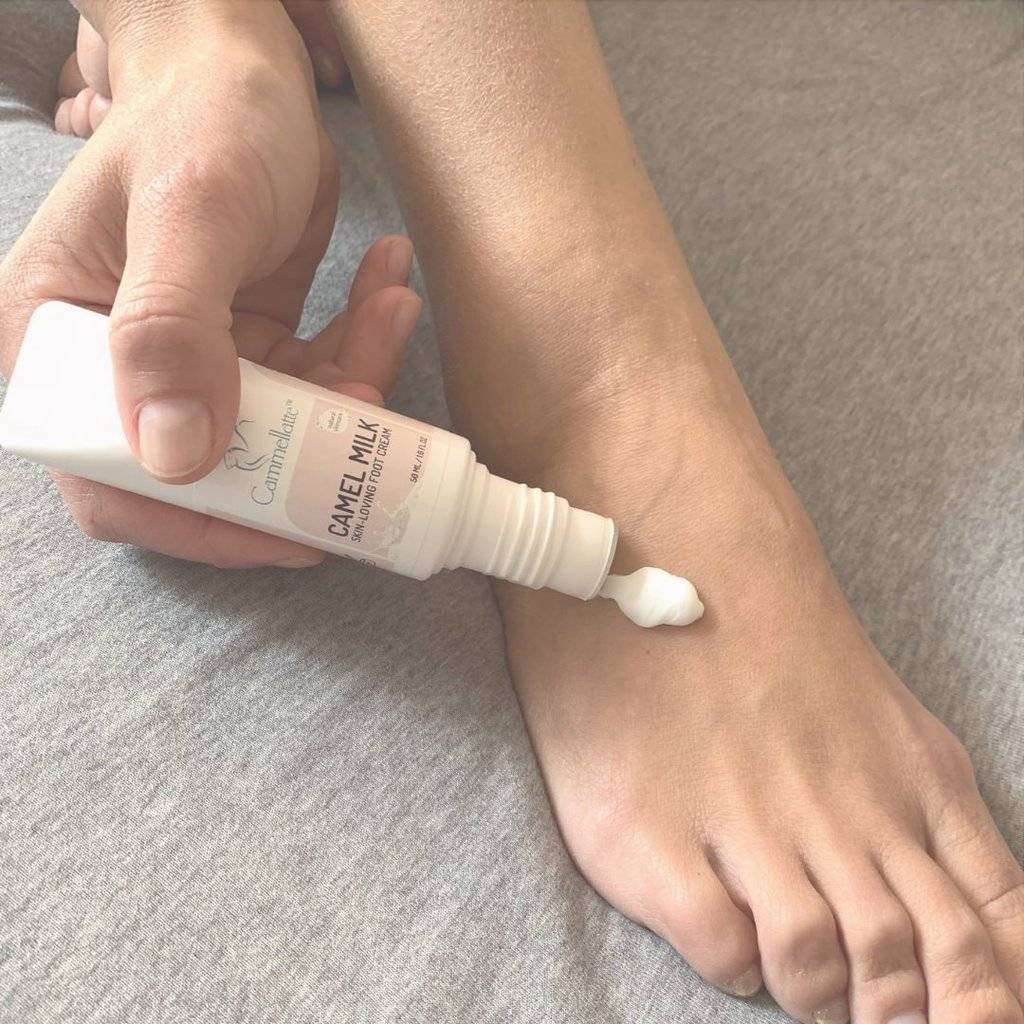 Are Your Hands Dry or Itchy?
Frequent hand washing and hand sanitizing can cause dry skin that can flake, itch, crack, and even bleed without proper precautions. Camel Milk Hand Cream helps combat these negative side effects.
The rich, creamy formula hydrates, nourishes, and revitalizes dry, sensitive hands with a boost of vitamins and minerals. The light, silky hand cream melts into the skin, leaving your hands softer and smoother.
Unique Ingredient - Camel Milk

CAMEL MILK IS EXTREMELY NUTRITIOUS. IT'S PACKED WITH IMMUNE PROTEINS, FATTY ACIDS, VITAMINS AND MINERALS.

Essential Fatty Acids 3,6 & 9 - hydrating, rejuvenating




Vitamin C, Iron, Copper and Zinc - nourishing

Anti-Inflammatory Immune Proteins - protecting

Lanolin - moisturizing
Lactic Acid - exfoliating
Phospholipids - protecting and healing
Purest, Natural Ingredients, and Nothing Else

Carefully made to our highest standards, Camel Milk Products contain only the highest-quality natural ingredients. We selected the purest essential oils, and the richest Camel Milk to create these ultra nourishing, deeply hydrating products to make your skin feeling and looking beautiful.
No Harmful Extras to Your Skin or Body

No parabens. No phtalates. No GMOs. No SLES. No SLS. No other man made chemicals. Just pure, natural ingredients to hydrate, repair and revitalize your most delicate skin.
What are people saying about the Self-Care Love Bundle?