Deep long-lasting hydrating




Nourishes and softens




Smooth-looking skin




Natural formulation




Delicately light beautiful scent
Paraben Free - Sulfate Free - Phtalate Free - Mineral Oil Free - Formaldehyde Free - Synthetic Fragrance Free - Gluten Free - Cruelty Free
Camel Milk Body Lotion with Shea Butter contains 20% Camel Milk combined with other natural ingredients. It is the perfect natural body care product to benefit your skin.
Repairs - Camel Milk is high in Lactic Acid which gently sloughs away dead skin cells leaving the skin looking plump and fresh. Vitamin C helps produce collagen supporting natural skin rejuvenation.
Hydrates - Lanolin in camel milk locks in the moisture, keeping the skin hydrated.
Omega Fatty Acids 3,6 & 9 in camel milk in combination with Jojoba Oil have moisturizing qualities and potent antioxidant properties that help slow down aging and help control sebum production. Soothing Sweet Almond Oil helps nourish and soften the skin.
Protects - The antioxidant, reparative, and enlivening properties of camel milk's vitamins Vitamin B1 and Vitamin E help defend the skin from premature aging and reduce skin damage caused by UV radiation. Shea Butter helps to maintain skin's elasticity and prevent stretch marks.

Camel Milk Body Lotion absorbs easily, leaving the skin feeling soft and smooth all day.
For best results apply after showering to lock in moisture. For increased microcirculation, massage gently into your skin using circular motions. A little goes a long way.

Water, Camel Milk, Grape Seed Oil, Sweet Almond Oil, Cera Alba, Olive Oil, Hydrogenated Palm Oil, Jojoba Seed Oil, Wheat Germ Oil, Shea Butter, Fragrance (Essential Oil Blend), Stearyl Alcohol, Jasmine Oil, Lavender Oil, Pectin Seed Fruit, Tocopherol (Vitamin E)
Natural Skincare: Free from synthetic preservatives, fragrances, colorants, free of raw materials derived from mineral oil. Gluten free. Cruelty free.
We care about the quality of the ingredients in our products and their simplicity. We believe in less = more.
Our camels live on a small family-owned farm in Southern Israel that is committed to ethically producing premium camel milk. No hormones are fed to our mothers. Most of their time our camels roam free around the beautiful natural reserve of Arava and graze on native grasses, some of them having remedial properties. The milk is gently pasteurized, maintaining its nutritional quality.
Exquisite, Natural Care for Your Skin
CAMEL MILK BODY LOTION CAN REPLACE EVERY LOTION IN YOUR CABINET
Experience the luxury of essential oils and pure natural ingredients revitalizing your skin with the Camel Milk Body Lotion. This lightweight moisturizer beautifully hydrates and nourishes your skin, leaving it softer, smoother and fresher with every drop.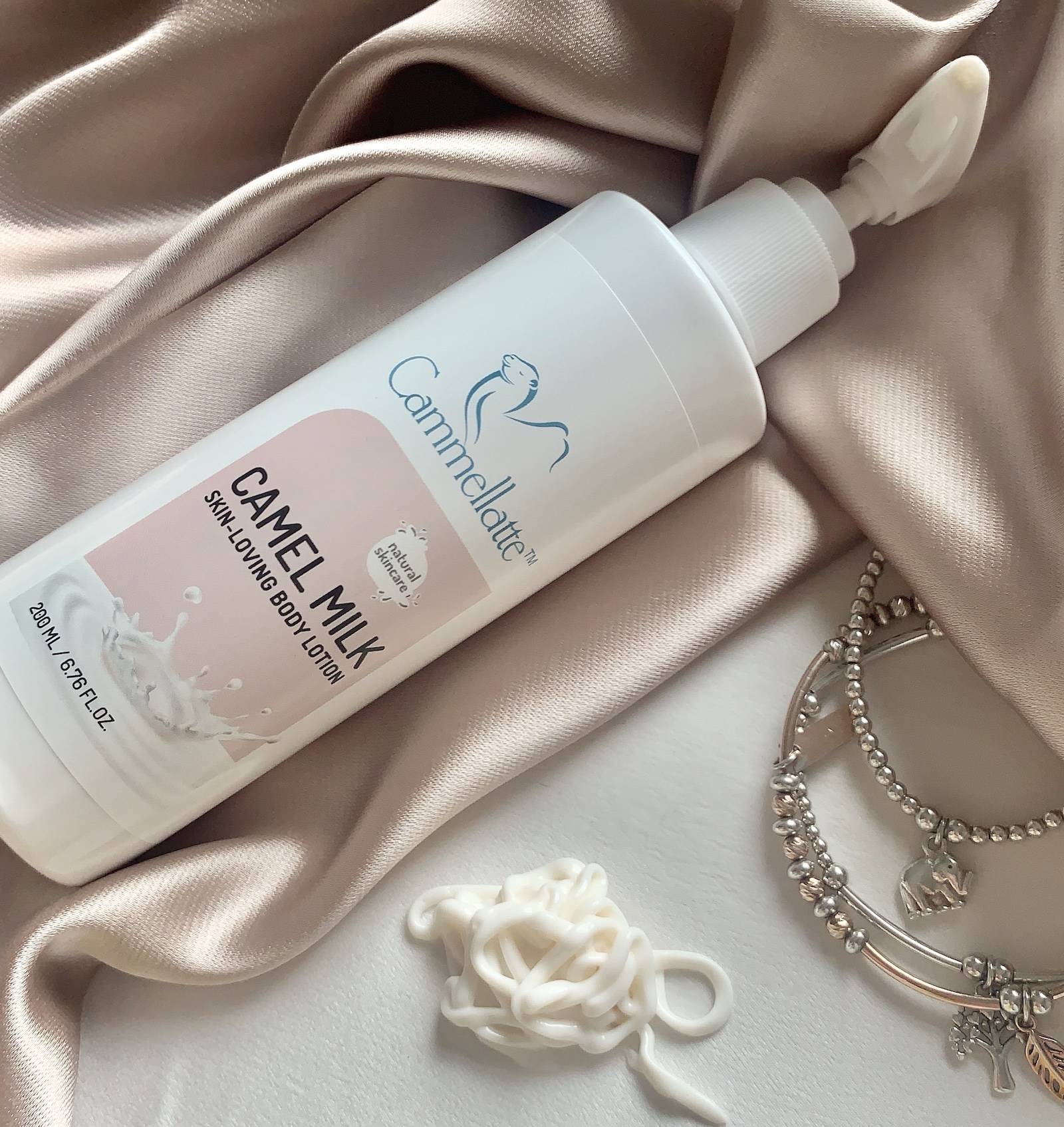 Essential Vitamins Your Skin Needs
Build beautiful skin from the inside out with the essential vitamins, minerals and antioxidants hidden inside our hero ingredient - Camel Milk. Every drop of this luxurious body lotion acts as a powerful multivitamin for your skin, while leaving it soft and supple.
Unique Ingredient - Camel Milk
CAMEL MILK IS EXTREMELY NUTRITIOUS. IT'S PACKED WITH IMMUNE PROTEINS, FATTY ACIDS, VITAMINS AND MINERALS.

Essential Fatty Acids 3,6 & 9




Vitamin C, Iron, Copper and Zinc

Anti-Inflammatory Immune Proteins

Lanolin
Lactic Acid
Phospholipids
Purest, Natural Ingredients, and Nothing Else

Carefully made to our highest standards, Camel Milk Body Lotion contains only the highest-quality, natural ingredients. We selected the purest essential oils, and richest Camel Milk to create this lightweight body lotion.
No Harmful Extras to Your Skin or Body

No parabens. No phtalates. No GMOs. No SLES. No SLS. No other man made chemicals. Just pure, natural ingredients to hydrate, repair and revitalize your most delicate skin.